We all know that Notion is one of, if not the best, and most powerful note-taking app. It's to the point that even calling it just a "note-taking app" would be doing it a great disservice. As you'll see in this article, this beast can do it all: from personal to-do lists to fully-fledged dashboards and wikis for organizing tasks and information in small to large businesses. All of this plus the functionalities added by Notion widgets, some of which (my favorites) will be discussed in this article.
You can even build a website with it! But I'm getting ahead of myself there… Let's begin!
Disclaimer before we start. All of the widgets in this article are intended to be used alongside Notion's built-in features, like to-do lists, databases, kanban boards, and much… MUCH more.
Widgets
Let's start by building a personal dashboard complete with all the info about our life that we might need on a day-to-day basis. Something to check in the morning to have a complete picture of the day ahead of us.
Best widget collection sites
The two great players in the Notion widgets game are Indify.co and Apption.co: while the former has fewer widgets they're all handcrafted to respect Notion's minimalism, contrary to the latter which has more but some of them are just embedded from external sites.
Want both customization and ease of use? Then you should try my personal favorite: WidgetBox!
The choice is yours.
How to add Notion widgets
Before we begin, if you don't know how, let's see how widgets in Notion work.
Every widget is just an embedded web page, retrievable from a URL via the Embed Notion component. To do so, simply paste your widget URL and then right-click on it, the option to "Create Embed" should show up.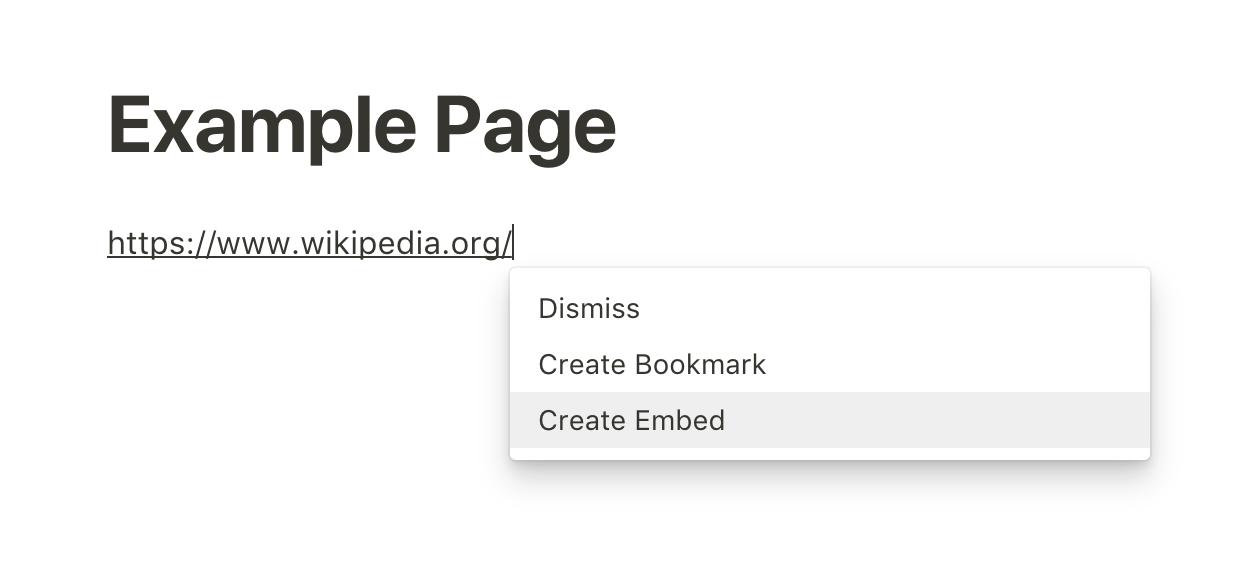 Calendar(s)
Let's start with the obvious ones, while Notion does, in fact, have a calendar built-in, this will not sync with your other calendars. Luckily, with these widgets, we can sync our Notion page with our Google Calendar.
You have two options as of now:
Directly embed Google Calendar
To do so, simply follow the procedure on Apption.co and position the newly created widget on your page.
Implementation via Indify.co
To use the more stylish alternative, you'll need to:
create a free Indify.co account
click on the button that says "Create widget" on the calendar widget
link it to your Google Account
select your calendar
embed the newly created widget in your Notion page
Don't worry, the entire procedure is automated!
Pomodoro timer – speed through your work
Are you the procrastinating type? So am I! But since I've been using the Pomodoro Technique I've greatly sped-up my workflow and I got a lot more work done (including this article). Basically, this technique has you splitting your workload into 25-minute sessions, broken up by 5-minute pauses.
With the Pomodoro Timer Widget you can keep track of the time directly from your Notion page, to ensure that you can finally finish that thing that got you procrastinating in the first place. Seriously though, you should get back to it after you finish reading.
Count down to your goal – from start to finish
Do you have a deadline? Well, those can be really stressful. Lucky for you there's a nifty little widget to assign a countdown timer to each of your tasks.
My personal favorite way of using the countdown widget is to add it to each of my tasks, and then putting all of them in a built-in board view in order to tackle them depending on how much time there's left.
Schedule builder – organized like never before
Got a lot of work? Like… A LOT? Well, I'll let you in on a little secret. When all your tasks are right there in front of you in a readable and understandable format, they'll seem a lot more manageable. This is why you need the schedule builder widget to easily keep track of every task you have in real-time.
Miro Boards – collaboration to the next level
Now THIS is the final boss of organizing your tasks. The great folks over at Miro have developed a lot of great tools to make collaboration and organization across small and large teams a cakewalk. Honestly, that deserves a whole separate article.
One of those amazing tools is the Notion + Miro integration: simply use their custom component to automatically embed a Miro board in your Notion page to keep all your projects visible at-a-glance. Simply marvelous!
Building a website with Notion
Did you know that you clould build your personal landing page with Notion? It's true. I've found a couple of ways to do so.
Share your page to the web via the button on the top right corner
Buy a domain and link it to your page via Fruition (FREE) and Cloudflare (also FREE)
Buy a domain and link it yo your page with 3 clicks via Super (FREE and SUPER EASY)
Cool right?
Adding interactivity
Here is a list of widgets to add interactivity to your Notion site and engage more users as possible:
Google Analytics to keep track of your visitors
Add comments via custom widget or with Disqus
Collect emails via simple form or with Mailchimp (if you run a newsletter)
Collect donations via Buy Me A Coffee or Patreon
Add beautiful presentations via SnackThis
Conclusion
If you've followed this article you should now have not just simple notes, but a fully customizable dashboard for managing your life, business, and whatever comes through your mind. I hope it's been useful to you, it's surely been useful to me!
And, before you go consider adding your favorite widgets in the comment section below and check out our other articles on things to do on the internet!
Thanks for reading! 💖